Newsletter Marketing App for Shopify
E-Mail Marketing with personal offers for your Shopify clients
Carglass, TESA, bugatti, DHL and REWE all use CleverReach® as their email marketing solution. Why? Because it's just that clever. You can use it with your Shopify online store now! Use the sophisticated CleverReach® email marketing software to set up professional newsletters for your clients without any programming knowledge required, quick and easy. Make use of the numerous advantages of an integration solution for your Shopify online shop and benefit from our powerful software and flexible pricing without a contract period.
Exclusively for customers: Become a customer and get 10% off your CleverReach® rate for 12 months! Simply awesome: is automatically activated when you create a new account.
---
In 7 images: CleverReach® Plugin for Shopify
---
Video: Shopify & CleverReach® – Awesome conversions!
---
Video: Installation CleverReach® Plugin
 

for Shopify
---
Benefits & Module Description
The module connects our CleverReach® E-Mail-Marketing Tool directly to your Shopify online store. Immediately all important Shopify data will be automatically updated and added to the CleverReach® Newsletter Tool. The syncing process saves you valuable time and hassle. At the same time you'll be able to avoid errors which often happen during manual importing and exporting.
The following Shopify data will be synced:
Newsletter subscriptions and registrations
First name, last name, interest, gender, age, birthday, address data…
Bought products, sales, buying frequency, average shopping cart, order number, item number, product name, price, currency, amount
Product information of your Shopify items like image, text, price, sizes, material…
"Last order date" is automatically stored in the recipient's data record (and can be used for email marketing automation)
Because it's just easy
Make use of these helpful data for personal offers which will truly interest your clients. You will get more openings, more clicks and more conversions!
This is the key to more sales: your clients make more purchases more often, so win, win, win.
---
The functions
Many other functions: newsletter set up, newsletter editor, occasion-related newsletter templates, A/B Split Tests, Spam Tests, image editing, photo editing, RSS Feeds, dynamic contents, importing functions, recipient lists segmenting, double opt-in registration forms, automatic bounce management, automatic cancellation management, blacklist check, newsletter sending, personalized newsletter sending, social media integration, reporting & tracking, opening rate, click rate, cancellation rate, cancellations, multiple level bounce management, Google Analytics integration, conversion tracking, fully automated mailings, Lifecycle-E-Mail-Marketing, THEA – eamil marketin automation, auto-responder, follow-ups, whitelisting, CSA, Certified Senders Alliance, design tests, Newsletter Client Testing, SPF, Senders Policy Framework, email authentication, SSL encryption, WordPress Plugin, direct mailing, importing of CSV files, responsive templates, free software, Typo3 Newsletter, Excel file importing, forms, direct marketing and many more!
If you have any questions, feel free to contact our support team whose members are always very happy to help.
---
Valued clients buy more
Your clients
like to be surprised by funny smartphone cases
will be pleased by a cool gift idea for a cycling fan
will try the newest wine recommendation and thus discover their new favorite drink
In a perfect world with CleverReach® and Shopify, your clients are always looking out for your next newsletter because they're getting the offers that they wish for. If your client's happy, then you're happy and we are happy too!
We call this a win-win-win situation!
---
Installation / Download
The CleverReach® Shopify Integration is set up and ready to use within just a few minutes:
Click on the following button and enter your Shopify-URL in the screen window:
If you have not been logged in before, the login window for your Shopify online shop will open.
This will take you to the Shopify backend and you can start installing the CleverReach® App by clicking "install app".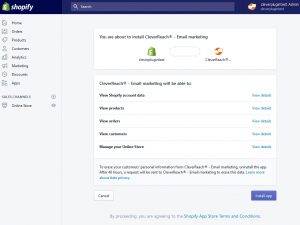 Now the plugin can be activated.
---
About Shopify
The cloud-based, multi-channel sales platform Shopify is aimed at small to medium-sized retail companies. Shopify makes it easier to bring together and organize your users and all sales activities (online and stationary) in this one platform: The beloved sales software takes into account not just online sales channels like web shops, marketplaces, apps or social networks, but also very traditional outlets like local stores or selling stalls.
With help from the Shopify Newsletter Plugin your CleverReach® Account will be easily connected to your Shopify Account.
---